Top 5 Ways to Save Money on Vacations
A vacation is supposed to be relaxing and fun – not stressful. Yet all too many people start stressing about money the second they arrive at their destination.
And, all too often, people will think they're being frugal, but are actually being cheap. This is a good way to ruin a perfectly good opportunity for some R&R.
Don't let financial worries ruin your next vacation. Cut the stress with the top five ways to save money on vacations discussed below.
Save Money on Vacations: Start Saving Now
The best way to save money on vacations and cut stress is to make sure you have enough money to begin with.
Start saving money for your future trip now. Place it in a separate vacation savings account.
Consider setting up automatic transfers. Having a separate chunk of money for your trip when you reach your destination will greatly reduce stress.
Don't get caught putting everything on a high-interest credit card. We all say to ourselves; "Oh, I'll put it on my credit card and pay it off later!"
Don't do it! Pay it off NOW and start saving. Want to go to Cuba next year? Start putting $100 a month away and then when it's time to put on your thong, you won't be thinking about your credit card statement.
You can enjoy yourself! Other's might not enjoy you if you wear this, but you'll have fun.
Save Money on Vacations: Timing is Everything
Don't take your trip at the same time as everyone else. Traveling during the off season can save you a lot of money on vacations.
Case in point: traveling during shoulder seasons. Crowds are often much smaller and prices on everything from airfare to lodging to attractions are cheaper.
Even making small timing changes like booking flights for early morning, late night, or mid-week can result in savings that seriously add up.
Save Money on Vacations: Skip the Hotel
Renting a house or an apartment is often a much cheaper option than booking a hotel room for your vacation.
Airbnb is one of the best platforms for booking such lodgings. You can find beautiful homes and apartments that are conveniently located in real local neighborhoods.
Another thing to consider is renting your home out with Airbnb while you're away. It's extremely easy to do and can help you generate a little income while you're on your trip.
Save Money on Vacations: Think Frugal, Not Cheap
If you want to save money on vacations, it pays to think like a local.
Don't eat at tourist traps every night. Find the restaurants that locals frequent. They are usually much cheaper and have better food.
Spend some time on Yelp or TripAdvisor researching the best local options and reading reviews to ensure you're not eating at a place like this: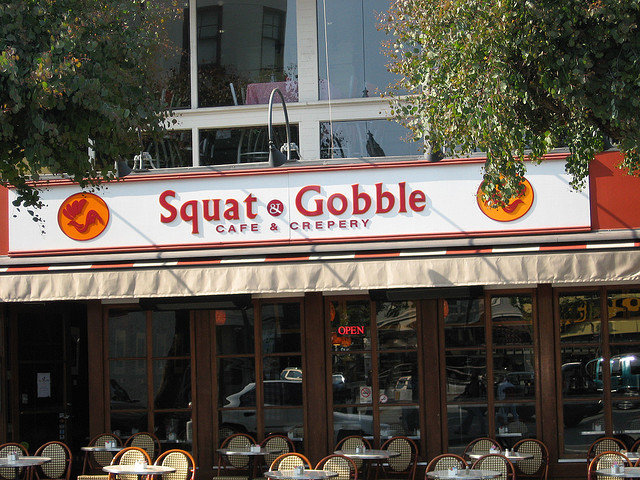 If you do decide to rent an apartment, use the kitchen to make your own food. Even preparing just breakfast and lunch with supplies bought at the grocery store (and still eating out for dinner) saves a lot of money.
Save Money on Vacations: Utilize Smartphone Apps
Smartphone apps like GasBuddy, Yelp, and Roadtrippers make it easier than ever before to save money on vacations.
GasBuddy helps you track down the best gas prices nearby.
Yelp helps you find local restaurants with the best food and prices. And, Roadtrippers makes it easy to track down sites and attractions that are off the beaten path (many of which are free).
Other essential travel apps for your next vacation include Hipmunk and Hopper. Check them out!
Final Thoughts
There's no reason your next vacation has to break the bank. Use the five tips outlined above to save money on your next trip and enjoy your vacation without worry or stress.
Glenn
(Actor simulation of Glenn on vacation)